Welcome
My practice is dedicated to improving YOUR well-being.
Healing Intentions Massage Therapy, located in Sherwood Park, provides advanced therapeutic and relaxation massage to residents in Sherwood Park and the greater Edmonton area in a safe, comfortable and relaxing environment.

Use the convenient online Appointment Book to schedule your treatment today!

Profile

As a Registered Massage Therapist practicing since 2009 and graduate of the MH Vicars School of Massage Therapy 2200 hour program, I am committed to promoting health and improving the lives of my clients by incorporating and providing a range of wellness modalities including Therapeutic Massage, Trigger Point Therapy, Myofascial Release, CranioSacral Therapy, Swedish Relaxation Techniques, Deep Tissue Massage, Hot Stone Therapy, Cupping, Reiki, Quantum Healing and Raindrop Technique as well as treating overuse and stress/strain injuries.

My practice is dedicated to improving the general well-being of all my clients - the healing power of intention is within your reach!!!

Direct billing services to all major insurance carriers provided.

Treatments

I offer the highest quality of care to my clients. I am friendly and knowledgeable and am concerned about all aspects of your treatment. I customize each treatment to meet your specific needs by incorporating a variety of assessment and treatment techniques best suited to you as an individual.

As part of the service, I will provide you with knowledge of self-administered pain management techniques such as stretching and strengthening exercises and the use of heat or cold therapy to help you get the most out of each treatment.

To learn more about my services, click on the Therapy Modalities tab above.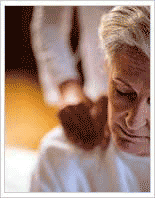 Massage therapy is one of the oldest methods of healing, as the practice of therapeutic massage can be traced back nearly 4,000 years. Statistics from both Health Canada 1 and the American Massage Therapy Association 2 show that millions of North Americans use it today.
Massage therapy refers to a comprehensive health management strategy focusing on the application of various techniques to positively affect the soft tissues and joints of the body. Massage techniques most commonly include pressure and compression, kneading, frictioning, and mobilizing to improve the health and condition of the muscles, tendons, skin, fascia or connective tissue of the body.
Today massage is thought of as a holistic therapy that complements medical treatment. The "Physician's Guide to Therapeutic Massage" shows that massage can decrease pain, improve range of motion, improve mood, aid in the circulation of blood and lymph flow, reduce muscle and joint soreness, and improve sleep.
1 Health Canada (2003)Health Policy Research Bulletin. Retrieved May 10, 2005, from http://www.hc-sc.gc.ca/iacb-dgiac/arad-draa/english/rmdd/bulletin/mainstream.html#page6
2 American Massage Therapy Association. (2001). Massage Therapy Consumer Fact Sheet