Our Specialties
Hot Stone Treatment
Hot Stone Massage Therapy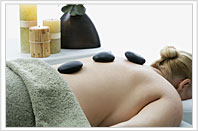 Hot Stone Therapy is the skillful art of bodywork utilizing various size, form and weights of warmed, smooth, flattish stones. The pre-warmed stones are placed on key points of the body to stimulate the circulatory system. The stones are also used to warm, soften and relax tight, aching muscles while promoting an extraordinary feeling of relaxation and contentment. Often, rocks made of smooth volcanic Basalt are used because of their high iron content and ability to retain heat.
While the hot stones soften the body muscles and help to release toxins, your trained therapist will usually apply Swedish Style relaxation massage to other areas of your body. Warmed, smooth stones are often used with essential oils as a massage tool.
A number of specific therapeutic benefits are attributed to the skillful application and usage of hot stones. Health conditions such as deep muscular aches, injuries and pains, stress, circulatory problems, arthritis, fibromylagia, sleep problems and others can benefit wondrously from applied Hot Stone Therapy.
The combination of a Relaxation Massage and Hot Stone Therapy is definitely an experience that keeps clients coming back for more!
If you have never experienced this unique indulgence, you owe yourself this exquisite treatment.
Hot Stone Therapy
Relieves aches & pain - Reduces stress & anxiety - Improves circulation